In 1998 the idea was launched to organise a Young Investigator Award. From 2004 and onwards we have also had a competition for the Young Investigator Poster Award. Since 2011 the awards have been named after the late Dr. Joachim-Ziegenhorn, in memory of his strong and persistent support of the ELC. The prize is a diploma and a financial reward.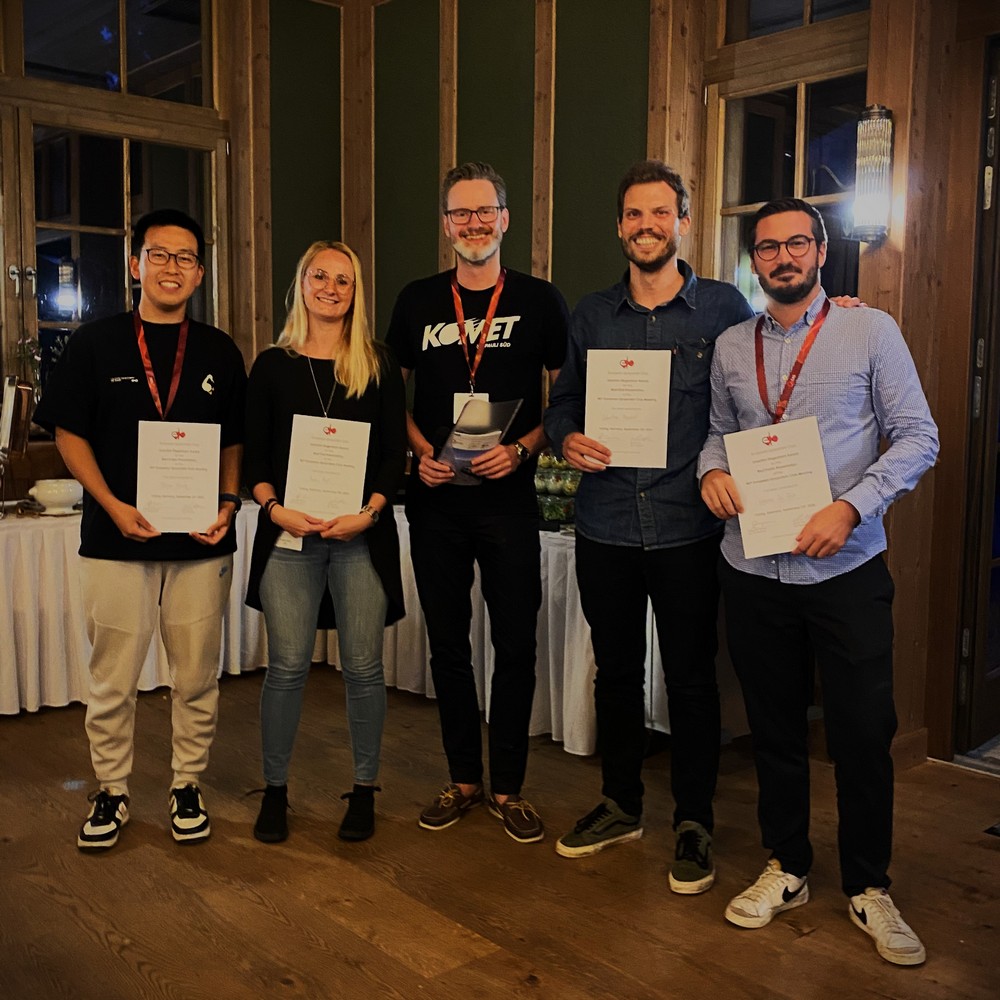 Young Investigator Awards 2023:
Best Oral Presentation
Tabea Moll, Baltimore, USA
Size is not everything: Characterizing lipoprotein lifetime in zebrafish using a photoconvertible ApoB fusion protein
Sebastian Hendrix, Amsterdam, Netherlands
SPRING-dependent regulation of hepatic SREBP signalling governs systemic lipid metabolism in mice and humans
Best Poster Presentation
Boyan Zhang, Groningen, Netherlands
GPR146 and hepatic steatosis
Lorenzo Da Dalt, Milan, Italy
OPA1 affects lipid metabolism and atherosclerosis progression
Previous oral awards
2022 Jennifer Härdfeldt (Stockholm, Sweden)
Transvascular interstitial fluid-to-serum ratios of lipoproteins in cardiovascular health and disease
2022 Wietse in het Panhuis (Leiden, the Netherlands)
Pharmacological treatment with designer cytokine and exercise mimetic IC7Fc reduces atherosclerosis development
2021 Michelle Jaeckstein (Hamburg, Germany)
Vascular endothelial cells of white adipose tissue modulate de novo lipogenesis in adipocytes by the CD73-dependent generation of extracellular adenosine
2021 Iuliia Karavaeva (Copenhagen, Denmark)
The mitochondrial transporter, SLC25A34, integrates circadian and temperature cues to control adipocyte thermogenesis
2020 Venetia Bazioti (Groningen, the Netherlands)
T-cell cholesterol efflux pathways are crucial for maintaining peripheral T-cell levels and do not affect atherosclerosis
2020 Isabel Reinisch (Graz, Austria)
p53 in the regulation of fructose metabolism in brown adipocytes under nutrient deprivation
2020 Cristy Verzijl (Groningen, the Netherlands)
A role for GalNac-T2 dependent glycosylation in the regulation of insulin sensitivity
2019 Lisanne Blauw (Leiden, the Netherlands)
The biological function of CETP: modulation of HDL to resolve infections
2019 Lorenzo da Dalt (Milan, Italy)
Tissue selective PCSK9-KO mice present altered glucose metabolism, pancreatic function and insulin release
2018 Maaike Schilperoort (Leiden, The Netherlands)
GPR120 agonism promotes metabolic health by stimulating calcium-dependent mitochondrial respiration in brown fat.
2018 Antoine Rimbert (Groningen, The Netherlands)
Genetics, lifestyle, and low-density lipoprotein cholesterol in young and apparently healthy people.
2017 Faiza Qayyum (Copenhagen, Denmark)
Statin treatment, genetic inhibition of HMGCR, and risk of symptomatic gallstone disease.
2016 Christian Medom Madsen (Copenhagen, Denmark)
Low concentrations of high-density lipoprotein cholesterol and high risk of infectious disease.
2016 Faiza Qayyum (Copenhagen, Denmark)
Genetic variation in CYP7A1, LDL cholesterol, myocardial infarction, and symptomatic gallstone disease.
2015 Anders Berg Jørgensen (Copenhagen, Denmark)
Can the reduction in ischemic vascular disease in carriers of APOC3 loss-of-function mutations be explained by a reduction in LDL cholesterol levels?
2014 Kirstin Albers (Hamburg, Germany)
The LRP1 adaptor protein PID1 regulates glucose uptake into muscle and adipose tissues
(shared award)
2014 Alena Grebe (Bonn, Germany)
Cyclodextrin dissolves cholesterol crystals, mediates LXR gene expression and promotes atherosclerosis regression in mice.
(shared award)
2013 Birgit Plochberger (Vienna, Austria)
HDL lipid uptake regulated by mechanical properties of the plasma membrane
2012 Mariëtte Boon (Leiden, The Netherlands)
BMP-7 reduces high fat diet-induced adiposity in mice by activating brown adipose tissue in sympathetic-dependent way
2011 Alexander Bartelt (Hamburg, Germany)
From lipoprotein lipase to CD36: how brown adipose tissue controls vascular triglyceride metabolism
2010 Max Nieuwdorp (Amsterdam, The Netherlands)
Metabolic effects of transplantating gut microbiota from lean donors to subjects with metabolic syndrome
2009 Tanja Pedersen (Copenhagen, Denmark)
Osteopontin is Pivotal for Development of Uremic Atherosclerosis
2008 Christina Christofferson (Copenhagen, Denmark)
The signal peptide anchors apolipoprotein M in plasma lipoproteins and prevents rapid clearance of apolipoprotein M from plasma
2007 Oliver Bruns (Hamburg, Germany)
Non-invasive in Vivo Imaging of Recombinant TRL Labelled with Nanocrystals
2006 Malin Levin (San Francisco CA, United States)
Acyl CoA: Diacylglycerol Acyltransferase 2 (DGAT2)–Mediated Triacylglycerol Accumulation in Glycolytic Muscle Promotes Insulin Resistance
2005 Astrid van der Velde (Amsterdam, The Netherlands)
Unraveling of the Mechanisms Underlying the Intestinal Cholesterol Excretion Pathway
2004 Torsten Plösch (Groningen, The Netherlands)
Evidence for Abcg5-independent Hepatobiliary Cholesterol Secretion in Mice
2003 Arja Kreeft (Leiden, The Netherlands)
Identification of dietary response genes in hyperlipidemic mouse models by gene expression profiling.
2002 Menno de Winther (Maastricht, The Netherlands)
Inhibition of macrophage NF-kB activation enhances atherosclerosis in LDLR deficient mice.
2001 Garry Tan (Oxford, United Kingdom)
Subcutaneous adipose tissue function in a subject with a dominant negative PPAR-gamma mutation (PPAR-gamma-P467L).
2000 E. Peer Lutz (New York NY, United States)
Heparin-binding defective lipoprotein lipase (LpL): evidence that the carboxyl-terminal region affects LpL binding to cells, LpL removal from the bloodstream and plasma triglyceride removal.
1999 Walter Stockinger (Vienna, Austria)
Are members of the LDL receptor family involved in signaling events?
1998 Martin Raabe (San Francisco CA, United States)
The role of microsomal triglyceride transfer protein in yolk sac, liver, intestine, and heart assessed by gene knockout in mice.
Previous poster awards
2022 Imke Lemmer (Munich, Germany)
Nfe2l1-mediated proteasome function in skeletal muscle regulates amino acid metabolism and energy expenditure in obesity
2022 Nienke Willemsen (Munich, Germany)
NFE2L1 in MYF5+ progenitors controls muscle development and brown fat adaptation
2021 Isabel Reinisch (Graz, Austria)
Adipocyte p53 coordinates the systemic response to intermittent fasting in obese mice
2021 Olivia Sveidahl Johansen (Copenhagen, Denmark)
Exploring lipolysis-dependent expression of the constitutively active receptor GPR3
2019 Ida Rasmussen (Copenhagen, Denmark)
Ten year absolute dementia risk score for improved risk stratification in the population – a tool for stratified clinical trials and targeted prevention
2019 Stefan Hajny (Copenhagen, Denmark)
Elevated apolipoprotein M levels impair triglyceride turnover in mice
2018 Maija Ruuth (Helsinki, Finland)
Susceptibility of LDL particles to aggregate is reduced by pcsk9 inhibitor and by healthy diet
2018 Lars Larsen (Amsterdam, The Netherlands)
A murine model of TMEM199-CDG, a Golgi trafficking defect, has abberant protein galactosylation and fatty liver
2017 Mirko E. Minniti (Stockholm, Sweden)
Between donor-specificity and new insights on human physiology: lessons from liver-humanized mice
2016 Sander Kooijman (Oxford, UK)
Familial longevity is characterized by preserved circadian rhythmicity of serum cholesterol levels in healthy middle-aged individuals
2015 Melinde Wijers (Groningen, The Netherlands) The COMMD family of proteins forms a large protein complex to regulate the intracellular trafficking of LDLR
2014 Sander Kooijman (Leiden, The Netherlands)
Circadian Rhytm modulates body fat mass through brown adipose tissue activity
2013 Kirstin Albers (Hamburg, Germany)
Adaptor protein PID1 influences LRP1 function in liver and adipose tissue
2012 Laetitia Lichtenstein (Toulouse, France)
Decreased biliary lipid secretion in P2Y13/apoE double knock-out mice is coupled to an increase in atherosclerosis
2011 Andrea Dichlberger (Helsinki, Finland)
Arachidonic acid-induced Formation of Human Mast Cell Lipid Droplets is mediated by Long-chain Acyl-CoA Synthetases
2010 Marcela Aparicio-Vergara (Groningen, The Netherlands)
Hyperstimulation of TNFR1 and its role in hepatic steatosis
2009 Sophie Colin (Lille, France)
The Enterocyte: A Potential Target of PPARalpha Ligands to Control HDL metabolism
2008 Philip Gordts (Leuven, Belgium)
Inactivation of the NPxYxxL Motif of LRP1 Reduces Lipoprotein Clearance and Affects Adipogenesis.
2007 Philip Gordts (Leuven, Belgium)
Inactivation of the NPXYXXL Domain and Downstraem Motifs of LRP1 Show a Differential Increase in Atherosclerosis
2006 Willeke de Haan (Leiden, The Netherlands)
Torcetrapib Increases HDL by Inhibiting CETP Activity, while Atorvastatin Increases HDL by Reducing CETP Expression
2005 Guiseppe Norata (Milan, Italy)
High-density Lipoproteins Induce Transforming Growth Factor Beta 2 Expression in Endothelial Cells
2004 Susan Coort (Maastricht, The Netherlands)
Enhanced sacrolemmal FAT/CD36 content and tryacylglycerol storage in cardiac myocytes from obese Zucker rats
2004 Marisa Tschernatsch (Graz, Austria)
Implication of HuR in the regulation of mRNA-stability of genes relevant in lipid metabolism